Jeffrey Baker
Piper/Web Major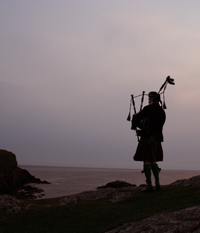 I started as a student with the GRPD near the end of 2004, receiving group instruction from the band (under Pipe Major Mary Wallace), and receiving private lessons from Instructors Brian Erbe and Chance Bell.

The "master plan" was realized while in Scotland in the beautiful Edinburgh Castle years ago.  While taking in the sights, a single piper strolled about within the castle walls, letting his pipes ring out through the entire castle... I think that's what did it for me... My interest in the music started growing, and I eventually found myself back in Scotland year after year, enjoying the culture, the history, the beer, the people, the beer, the beer, and eventually decided to learn to play the bagpipes.

About three years later, I found my way back to the Highlands, playing my pipes atop the misty hills of Gairloch... A beautiful place with a breathtaking view of the sea, the Isle of Skye, and the mountains...

I've been concentrating on solo and band competitions lately... Exciting and challenging. Learning how to present tunes to a judge all by yourself and with the band is quite a challenge, and certainly improves your overall technique.

I've just been upgraded in solos to Grade III, after ending my season in the top 10 out of 610 pipers in my grade.

Now I'm faced with a whole new set of challenging and exciting music to tackle!

I hope to continue to study and learn, and continue to enjoy the fun and friendships found with the band over the past few years.

Still, I practice... I watch... I listen... and I learn.

The photo I've included above is of me playing at dusk at the Bay of the Back of the Ocean on Iona Island, Scotland.  It's the most peaceful and most beautiful place I've ever visited.